N'utilisez plus de couverts en plastique jetables. Ayez toujours avec vous vos nagware eco-responsables et design.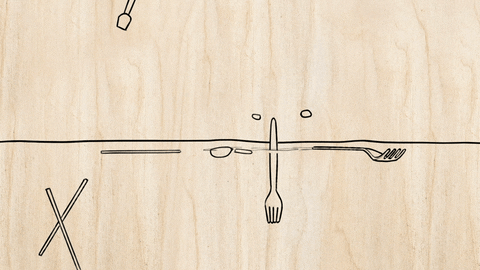 Les couverts Magware ont été conçus pour répondre à un problème écologique majeur de notre planète.
Nous jetons des milliards d'ustensiles en plastique à usage unique chaque année, et beaucoup d'entre eux finissent dans nos océans et nos cours d'eau.
Les plastiques ne se décomposent jamais complètement mais se dégradent plutôt en petits morceaux qui ressemblent à des restes de nourriture pour les poissons et autres animaux marins.
L'Ocean Conservancy classe les ustensiles en plastique parmi les objets "les plus mortels" pour les tortues de mer, les oiseaux de mer et d'autres créatures marines en raison de leur taille et de la facilité avec laquelle ils pénètrent dans nos cours d'eau.

Les "Magware" sont ultra-légers, solides et résistants !
Ils sont conçus pour vous accompagner partout.
Livrés avec une pochette pratique en polyester recyclé qui a été fabriquée à 100 % à partir de bouteilles en plastique recyclées.
Ils se relient magnétiquement les uns aux autres pour un encombrement élégant et réduit et vous permettent d'assembler autant de kits que vous le souhaitez.
Nous pensons que le mouvement " Apportez vos propres couverts " (BYOC) pourrait aider à réduire le nombre d'ustensiles jetables qui sont jetés chaque année.
De la même manière que le transport de bouteilles de boisson a commencé à devenir omniprésents dans la vie quotidienne des gens, nous espérons voir des couverts non jetables être utilisés de la même manière.
Les ustensiles Magware sont une solution simple pour aider à cette mission, en les rendant aussi organisés et faciles à transporter que possible.
Nous espérons vraiment qu'en promouvant ce mouvement, nous pourrons avoir un effet positif pour aider à lutter contre cette crise qui croît de façon exponentielle chaque année.

Specs:
Dimensions: 18 x 3.6 x 2 cm
Material Thickness: 2mm
Flatware Weight: 55 grams
Flatware + Pouch Weight: 73grams

Colors Available: Fire Orange, Deep Sea Blue, Charcoal Black, Forest Green, Tropical Turquoise

Materials

Hard Anodized 7075-T6 Aluminum, Neodymium Magnets, Recycled Polypropylene Magnet Housing (duel molded)

Pouch: Recycled Polyester made from recycled plastic bottles
Magware is ultra-light weight, strong and hard wearing! It is designed to go everywhere. Magware comes with a handy recycled polyester pouch (made from recycled plastic bottles). Magnetically connecting together for secure packing whilst allowing you to join as many sets together as you wish.
Magware has been designed to address a major problem facing our planet. We throw away billions of single use plastic utensils every year, and many of them end up in our Oceans and Waterways. Plastics never fully break down but rather degrade into small pieces that resemble food scraps to fish and other sea animals. The Ocean Conservancy lists plastic utensils as among the items "most deadly" to sea turtles, sea birds, and other Ocean creatures due to their size and to the ease they enter our waterways.
We think the Bring Your Own Cutlery (BYOC) movement could help reduce the number of disposable utensils that get thrown away every year. The same way as carrying drink bottles has started to become ubiquitous to people's everyday lives, we hope to see non-disposable cutlery being used in the same way. Magware utensils are a simple solution to help in this mission, by making them as organized and easy to carry as possible. We really hope that by promoting this movement, we can have a positive effect in helping against this crisis that is growing exponentially every year.
CROWDFUNDING SUCCESS - 6650+ BACKERS / 15,000+ MAGWARE SETS DELIVERED. We are extremely grateful to every backer and the crowdfunding community who have been behind us since the very start.

SPECS
Dimensions: 18 x 3.6 x 6 cm
Material Thickness: 2 mm
Flatware Weight: 290 grams
Flatware + Pouch Weight: 330 grams
One Single Set of each color included: Fire Orange, Deep Sea Blue, Charcoal Black, Forest Green, Tropical Turquoise
Included: 5x Knives, 5x Forks, 5x Spoons, 1x Pouch
MATERIALS
Magware: Hard Anodized 7075-T6 Aluminum, Neodymium Magnets, Duel Molded Recycled Polypropylene Magnet Housing
Pouch: Recycled Polyester made from recycled plastic bottles

CARE
We recommend hand washing your Magware to keep it in pristine condition. Magware has been dishwasher tested, usually it is not affected by regular strength powders and detergents, but we have found some higher strength dishwasher detergents and powders can affect Magware's hard anodized colors. To be safe we recommend hand washing. Use mild strength detergents when hand washing your Magware. DO NOT use detergents marked platinum, titanium, powerwash or any other strong grease removing detergents.
Magware is part of our #perfectgiftidea selection. Original gift items to please and surprise.